If any dealer changes something in their own way no guarantees or support from Skeppsta Maskin AB

Steel in parts
Not stainless steel in my oil press because the risk of toxic chromium Cr. and nickel Ni. in the oil and feed cake.
No advantage of using stainless in press parts on an oil press.
Rust does not exist inside an oil press because of oil is rust preventive and seeds contain no more than 7-9% water.
There is no advantage to using stainless steel, but great disadvantages toxic and not as durable as hardened steel.
It is hardened steel in a Taby Press from Skeppsta Maskin AB
The carbon cycle C in my oilpress is good for you . 0,20%
Carbon is a chemical element with the chemical symbol C in the periodic table. There is coal in almost everything you eat and drink. Coal is an important building block of all living things, and because all living things are born, grow, die and decompose, so moving the carbon atoms and becomes the new threads all the time. All carbon atoms in existence today are the same as ever existed on earth. They are part of a big cycle.
SIS 2172 in presstube C Max 0.20%
and press parts Si Max 0.55%
SIS 2511 in press screw C 0.13 - 0.18%
Cr 0.60 - 1.00%
Ni 0.80 - 1.20%
Mo Max 0.10%
Toxicity of Chromium Cr. and Nickel Ni.
The carcinogenity of chromate dust is known for a long time, and in 1890 the first publication described the elevated cancer risk of workers in a chromate dye company http://en.wikipedia.org/wiki/Chromium_toxicity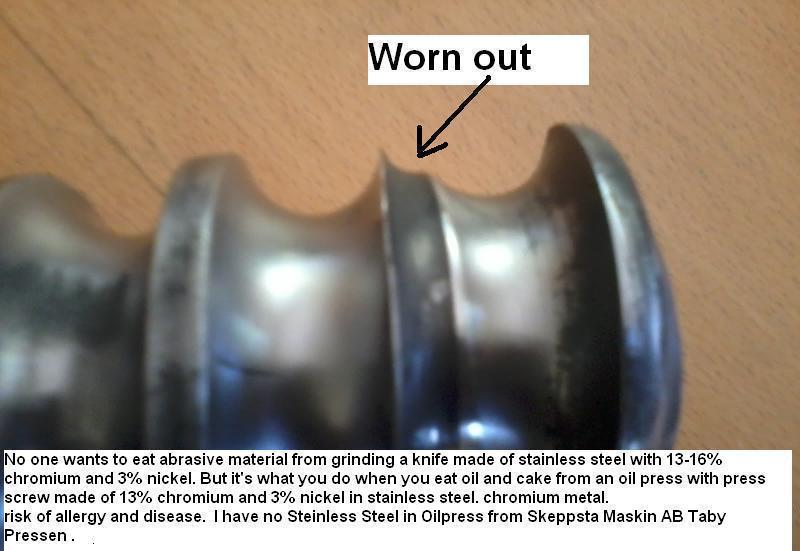 For oil press as wears out press parts and materials coming out of the oil and cake. Therefore, I use SIS 2511 ,

In the stainless steel is 12 % to 16% Chromium and . 3-3.5 % . Nickel
Chrome and Nickel is carcinogen
That it must be stainless steel in dairy wine making juice and meat production is real. But the press screw on an oil press is something else entirely. durable material coming out in the cooking oil and animal feed.
Vegetable oils contain very little water, while wine and milk contains over 80% waterThese stainless steel pipes do not wears the milk flowing in the pipes.
There is a big difference between an oil press that metal wear to the oil and feed and dairy. or wine industry. Chromium and Nickel in unnatural shape as the metals are dangerous. Crom naturally in natural foods are less hazardous.
Nickel (Ni)is a nasty toxic metal and a known carcinogen. It is one of the metals we see most commonly in toxicity tests. It appears stuck onto DNA, stuck on to translocator protein and is often present in blood at high levels. Nickel is a problem because it "looks" like zinc.

Chromium toxicity can lead to many skin and respiratory problems, and sometimes can even be life-threatening. Read on to know more about the toxic effects of chromium in humans
Ïn many years are Oil press made without steinless steel and it is no problem in the oil and cake C carbois good for You
You might not think of this when you look fine looking stainless tubes , but illusion is deceptive knowledge.
Nickel and Chromium is toxic to humans. Check on internet about Nickel and Chrom http://en.wikipedia.org/wiki/Chromium_toxicity
It is important not to be accused of the risk of producing nickel and crom allergies
In the press screw Press tube Press house Press Head Nozzle it is no good with stainless steel. Stainless Stell can also be rust if you have much water
Of course, kitchen knives and equipment in stainless steel kitchen when working with water in food. meat and so on. It's different when it becomes abrasive Crom nickel in feed for animals and people in the seed cake. To be sure of selling a good product to consumers without the risk of allergy and disease should not use oil presses, stainless steel chrome also nickel in oil production.

Nobody has done tests on the cake and the oil when pressed with stainless steel.
Future delicate test equipment and studies in animals and humans may find damage caused by chromium and nickel abrasion material

No one knows how dangerous it is poisonous. To be safe, do not use stainless steel in an oil press.
Only the authorities of the dairy industry makes the statement. They do not know how an oil press works
They just know that milk contains 87% water
Press tubes are inexpensive. Therefore several press tubes can be kept in stock for different types of seed.
Exchangeable nozzles. Simple design, no threads. Low price. Seed cakes of the pellet type.
No threads in the press tube which could otherwise become clogged up with dried linseed oil and leftover seeds,
making the press tube difficult to dismantle. Having no threads also means it is easier to assemble without having
to worry about seeds getting caught in threads.
Transparent inlet pipe provides the best view. A sensor can be mounted in the inlet pipe to the hopper.
A Watch Guard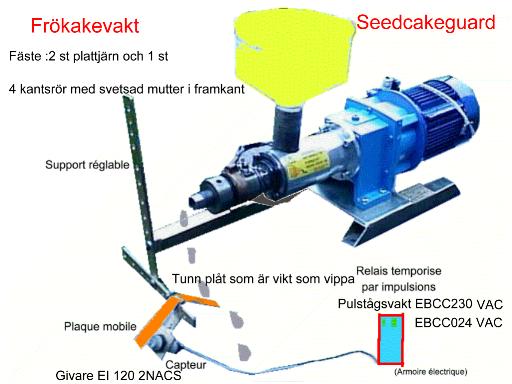 can mount on the oil-press.
The bearing housing has standard bearings which means low cost ball bearings.
Both slits and hole for the oil in press-tube less risk for stop.'
Big slits in press-house, less risk for rotation and wears.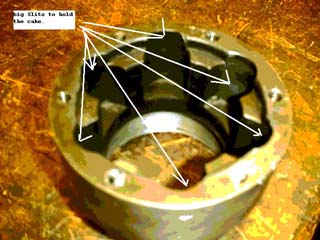 Overload protection is provided by means of torque limit.
The variator is by means of a static frequency changer, which means no mechanical wear, etc.
Soft start, the rotation speed rises to the motor on-speed gradually without jerking.
A toothed coupling between the gears and the oil press provides a soft power transition.
Reversing option, useful when you want to dismantle the press head, etc., and if a foreign object becomes lodged in the unit.
A display shows amps, rotation speed, volts and Hz.
Fault location capability via the display, the four most recent faults triggered are stored.
Overheating protection 140 oC on the press head. Low current, 24 volts, in the cable, for safety purposes.
A heating collar with a thermostat provides good starting up without the need to change nozzles or to heat by using an external heat source, for safety reasons etc.
Heat is provided via the heated collar; useful for pressing very cold seed in the winter.
The robust electrical cabinet complies with CE and EMC norms.
Screened electrical cables. The sheet steel cabinet protects the electrical components. A sighting glass allows inspection without opening a cover.
There is room for an instruction book etc. in the electrical cabinet.
There is an earth fault contact breaker in the electrical cabinet for safety purposes.
There are fuses in the electrical cabinet.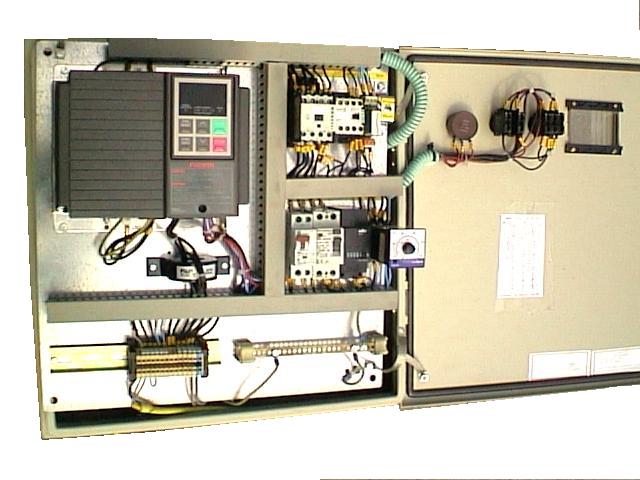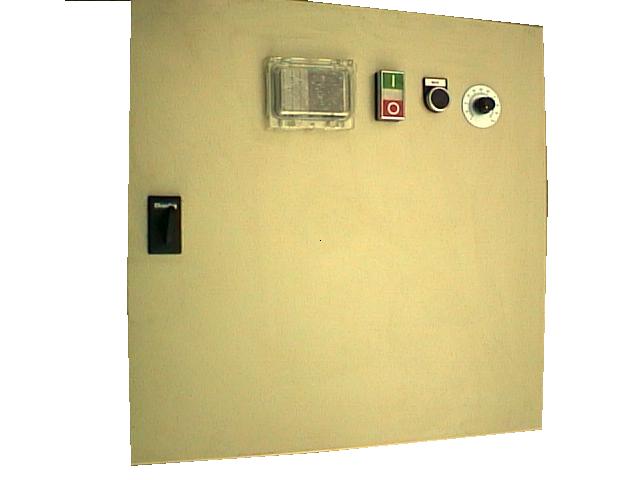 The press is divided into three parts: the electrical cabinet, a pressing unit and the motor gear unit. This facilitates servicing.
Standard components, manufactured in the West, are easy to service and can be obtained quickly.
The oil presses are not heavy. Type 55 weighs 62 kg. Their small size means that the press is easy to position
Skeppsta Maskin AB
Bengt Jonsson
Täby Skeppsta 336
S-705 94 ÖREBRO
SWEDEN
Tel: +46-19 22 80 05 Fax: +46-19 22 80 05


Start site
Technical details: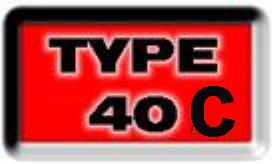 Oil Press: